It's a dog meet dog world
If you're looking for a welcome alternative to lonely days at home for your pooch, Dog Days dog daycare is the place. We offer a friendly, safe, and fun-filled environment for your dog and all his pals. So, no need to stare at his picture on your desk at work and worry how he's doing. Next to you, no one is more committed to your pet's happiness and well being than we are.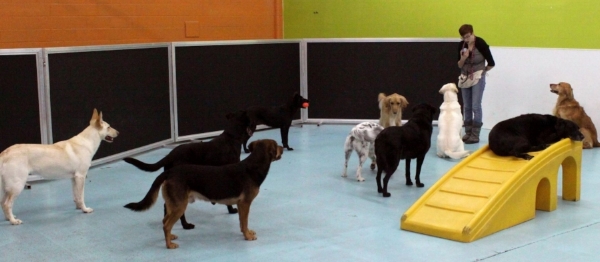 | Option | Rate |
| --- | --- |
| Single half day (A.M. or P.M.) | $20.00 |
| Single full day | $32.40 |
| 4 half days | $76.00 |
| 8 half days | $140.00 |
| 16 half days | $224.00 |
| 4 full days | $125.00 |
| 8 full days | $243.00 |
| 16 full days | $463.00 |
| Frequent Player Pass* - 20 full days | $490.00 |
Pre-paid play packs must be used within 3 months from date of purchase.
*Frequent Player Pass expires 45 calendar days from the date purchased; must be used by only one dog.
House Rules
Dog Days is a social, group environment where the dogs hang out and play together all day. In order to keep things, well, orderly, certain rules apply. All dogs must be:
At least 16 weeks of age
Be free of communicable diseases
Spayed/neutered (if over 7 months of age)
Be free of fleas & ticks, and be on a flea/tick preventative, such as Frontline
Up-to-date with DHPP, Rabies and Bordetella vaccinations
Be free of internal parasites
Be friendly to people
Able to play well with other dogs and pass our evaluation
Our evaluation process, one of the most important aspects of the Dog Days program, is designed to identify potential troublemakers—overly aggressive or defensive dogs. Neither of which makes for a fun, safe place for your dog to be.
What's involved? First, we review the New Client Registration form, which gives us an initial peek at your dog's behavior and any potential issues that we may want to discuss with you in greater detail. Next, we set up a reservation for an Evaluation Day. Here, the staff will spend some time with your dog, before introducing him to one or two other dogs. If positive behavior is observed, we'll continue introducing him to more dogs before taking him into the playroom. Depending on your dog's personality, this process can take longer with some dogs than others. We ask that dogs stay a minimum of 4 hours on this day. (Normal daycare rates apply for this visit.)
Before the Evaluation Day, we must receive your completed New Client Registration form, and a copy of your dog's vaccination record. Your vet may fax the records to us at 651-642-9664.